Jozi, Jozi. I think about everyone is back this week. Yesterday if the screens did not give away anything, then almost certainly the traffic on the roads did. It was like chalk and feta from last week. Chalk is not tasty at all. There is still a whole lot of chatter on the wires about matric results, but that is good, they must be dissected and studied. Yesterdays markets were dominated by two factors, one being the hangover from the "jobs data" Friday, it disappointed because it missed consensus. Is that fair enough? I guess so. And the other factor weighing on markets are the longer dated government issuances from mostly Portugal later this week. Even after the Portuguese said no worries we made a private placement over the weekend. Tell us how much please. More on the European situation again a little later.
So we sold off accordingly and then bumped along the bottom for the rest of the day here in Jozi, with the all share index ending up at 31698, down 231 points on the day. And now a longer way to go till the all time high. But hey, we are closer than the developed world markets to the all time highs. Most of the majors were lower yesterday, the exceptions being oil and gas, OK, it is really just Sasol. And platinum stocks, which were just ahead. Just a little. Talking Sasol and their "sector" Oil and Gas, the only other two companies in there are Oando and SacOil. Don't ask, won't tell, but over 97 percent of the "sector" is Sasol.
Excitement all around. COMPANY NEWS!!! In the form of an operating update from Shoprite Holdings. Let's do a copy and paste job here from SENS this morning:
"The Group performed satisfactorily for the six months to December 2010, growing turnover by 9,5% to R36,3 billion. Growth on a like-for-like basis was 2,8%. For the month of December sales growth was 11,9%. This performance must be seen against internal deflation of 1,2% for the six-month period.
Its supermarket operation in South Africa increased sales by 8,4% and by 3,2% on a like-for-like basis. Due to the continued weakening of most non-RSA currencies against the rand the turnover of the Groups non-RSA supermarkets in rand terms increased by only 3,0% and, on a like-for-like basis, by close to 1,0%. At constant currencies a rand turnover growth of 13,5% was achieved.
Against the background of a furniture industry that was more unfavourably affected by the current economy than most of the retail sector, the Groups furniture division grew sales by 4,3% for the six months."
I guess in a deflationary environment sales above ten percent is not bad at all, and they can well use the word satisfactory. Although I might (with my bad grammar) have worded it slightly differently, satisfactorily is a bit of a mouthful. For the full year last year, a gentle reminder, sales were up 13.6 percent, diluted HEPS (FY) at 451 cents per share. So a lofty multiple for sure. And a dividend yield at the current share price of 95 ZAR of around two and a half percent.
I suspect that the high multiple is going to remain for a while, this year will not be like some of the last few with tearaway share price growth: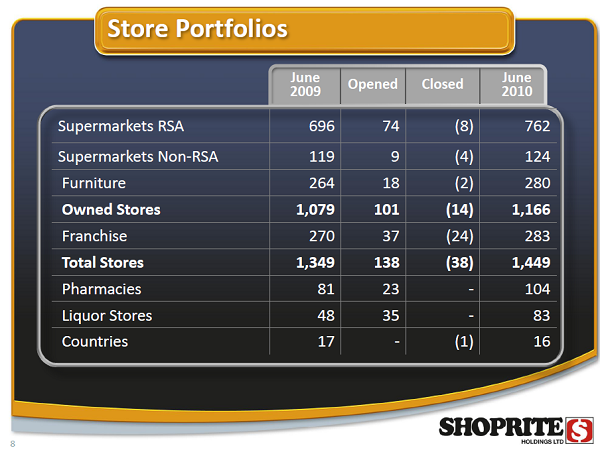 See that, their growth outside of South Africa has been great, but is still a small part of their business. I was quite struck by this shareholders list, check it out, see the 25 percent ownership by both the directors and treasury shares. For directors options at some stage: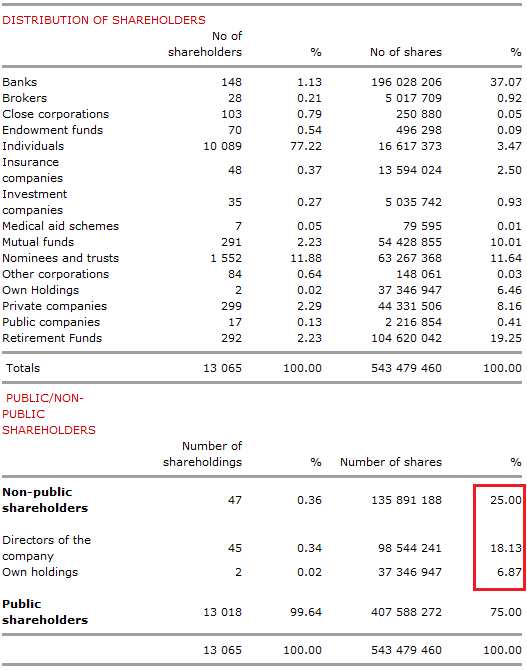 The biggest question that remains I guess is whether or not the price at 95 ZAR represents fair value. Because if 10 to 12 percent revenue growth translates into 15 percent earnings growth. Which does not quite sound enough in a South African context, but how does Shoprite measure up to their international peers?
Lianhua Supermarket Holdings, a mainland Chinese supermarket chain that is listed in Hong Kong trades on more than thirty times earnings. And seemingly has half the revenue of Shoprite. WalMart Mexico is a big daddy, and has an earnings multiple of 34 times. Sales of double that of Shoprite, if you are looking for a size and scale comparison. Those are the developing market comparisons, the European and US retailers are far more fairly and conservatively valued. Ahold trades on just over 12 times historic earnings. Kroger trades at 12 and a half. Target trades on 14 and a half times earnings. So I guess Shoprite is somewhere in the middle between looking expensive and what is considered conservative. What do you think?
What is this about food prices and inflation and riots and all that sort of stuff? New? No. Topical? Certainly. Because it impacts on all of us. Can you see why that BHP Billiton bid for Potash was so clever last year? From a Krugman piece (later) he points you in the direction of this useful and insightful column called the Beyond the Eternal Food Fight.
DO NOT read the column if you are young and enjoy eating lots of meat. Because an email interaction between the writer of the piece (Revkin) and a fellow by the name of Smil, who he has an interaction with, will not please you. The parting shot that Smil gives to Revkin about the 9 billion or so people living on the planet by 2050, is that these are the 5 choices faced by mankind:
"1) eating enough to survive with reduced lifespans (Ethiopia),
2) eating enough to have some sensible though limited choices and to live near-full lifespans when considering other (hygienic, health care) circumstances (as in the better parts of India today),
3) having more than enough of overall food energy but still a limited choice of plant foods and only a healthy minimum of animal foods and live close to or just past 70 (China of the late 1980s and 1990s),
4) not wanting more carbohydrates and shifting more crop production and imports to [livestock] feed, not food, to eat more animals products, having overall some 3,000 kcal/capita a day and living full spans (China now),
5) having gross surpluses of everything, total supply at 3,500-3,700 kcal/day, eating too much animal protein, wasting 35-40% of all food, living record life spans, getting sick (U.S. and E.U. today).
The world eating between levels 3-4 would not know what to do with today's food; the world at 5 is impossible."
Do not panic, do not go and buy a storeroom of baked beans. I suspect that all of our lovely gardens and resources that we hold so dear are going to have to become better utilised in the future. Your lovely golf course and parks might be better utilised from a food security point of view. Hah-hah, I am kidding golf buffs, I am sure that all this talk is perhaps too much.
Barons corner. Byron's daily missives, here goes:
Something interesting happened the other day and yes, as Sasha pointed out, it sounds like a load of hog wash but it brought something to my attention that needs elaboration. 50 Cent the rapper/former gangster tweeted his own personal investment in a small penny stock called HNHI. The stock closed up 240% and gained $50 million in market cap. Now I'm not interested in what 50 cent invests in or whether HNHI is a good buy or not, but I think it is fascinating how the power of the media is affecting the stock market and how we invest.
To emphasise my point, take a look at this article about a hedge fund that bases its entire investment strategy on twitter trends. I would love to know their progress and will follow it closely but at this stage I am doubtful it will work. But you know, if they had followed 50 cents advice early enough they could already be in the money. Obviously it's not that easy and their model looks more at emotional trends using algorithmic strategies but you get my point.
TV also has a huge impact on market sentiments. Visuals of Greek protestors flying into policeman last year got the bears very excited about Europe defaulting causing markets to overreact and fall more than what was warranted. I wonder how many people followed Nouriel Roubini's constant "double dip" advice and lost out on fantastic market gains since the credit crisis. He has had way too much media attention in my opinion.
I think another problem with live TV is the constant demand for 24hr coverage which sacrifices quality for quantity. There is only so much out there, moving markets and when something happens it gets completely blown out of proportion. Take the Dubai default debacle last year. Everyone was talking about it on the box, markets dropped because people sell first and then ask questions later, it blew over and markets started picking up again. Is that not unnecessary volatility due to media exposure?
I guess the world changes and like us, markets need to adapt. All I'm saying is that the media are having a bigger impact than one would think. However we will stick to our strategy of riding the wave and sticking to our guns whilst trying our best to filter out the important stuff through all the media content we are exposed to.
Ye olde world. It is called a bail out by market commentators and media collectively, I am not too sure that is the case. Let's explore. A bail out suggests that the boat is sinking. In this case think of the EU as an armada of sorts, a whole lot of ships sailing along together. Just to digress for a second (strange that) I read the Paul Krugman piece in the NY Times yesterday and he felt sorry for Portugal.
As he pointed out Spain and Ireland went hog wild on housing, Greece just managed their finances badly, but Portugal hardly had the price appreciations in housing that Spain and Ireland had. Krugman suggests in his column, the Conscience of a Liberal titled Portugal? O Nao!, the Portuguese government borrowed a lot of money. BUT, he does not tell us why, I am sure he does know though. I think the short answer is too many entitlements and not enough to fill the coffers.
Through all of this, I think that the "peripheral Europeans" tried to catch up to their peers too quickly. Nothing is achieved without hard work. German ingenuity and French persistence cannot be replicated in Mediterranean Europe. Through all of this the Portuguese are fighting fires, there are conferences today by the Portuguese PM, the finance minister seems to be making positive noises. All of that has eased tensions a bit between those trading out of Portuguese debt (currently the ten year yields around 10 percent) and those supposedly buying it tomorrow. I say supposedly because the Portuguese finance minister says that he is not anxious about tomorrows auction. Cool, this time tomorrow we will see I guess. And the Japanese say that they are buying European debt. So there.
New York, New York. After hours was where it was all at, the anxiety about how earnings are going to go for the season. Alcoa, traditionally the Dow first kicked off earnings season and beat expectations but missed the "whisper number". WHAT? I do not understand at all. Expectations versus the real number versus the whisper number, go figure guys. A mixed sort of a session, stocks did trend all the way higher after having started much lower on the day, but still not all of the majors ended in the Green, it was only tech that was strong.
There were distractions with the Hef taking the company private, it is said that the dirty old man does not own the mansion even. Education stocks were smashed as there were much lower entrance to learning institutions. At last, perhaps James Altucher was on to something in that strange article of his, why he was not going to waste money sending his kids to college? Did you see it? It is actually over a year old. If you missed it, here goes: Don't Send Your Kids to College. Thanks James, I am a long way away, but perhaps an iPad and a high level internet connection is cheaper. Or even starting a business for your youngster.
Up periscope Until the Euro auctions are over this week expect nothing. And I mean not too much from equity markets, even if some bold predictions suggest 1500 by year end.
*Sasha Naryshkine is from Vestact Asset Management